Reddi Plumbing provides fast septic tank service for homes and businesses. Wichita owned for more than 60 years, we are licensed and insured, and serve all of Kansas.
A typical residential septic tank will need to be pumped out about every three to five years. The frequency can vary depending on the tank size, and the number of people living in the home. An inspection is recommended every year.
Our vacuum trucks range from 3,000 to 6,500 gallons, so no septic job is too large or too small. We provide flat rate pricing, with no surprise charges.
Our Services Include:
Septic Tank Pumping / Cleaning
Lateral Line Cleaning
Lagoon Services
Septic Tank Installation
Sewage Clean up
Septic System Inspections
Sludgehammer Remediation System
Hydrojetting (waterjetting)
And More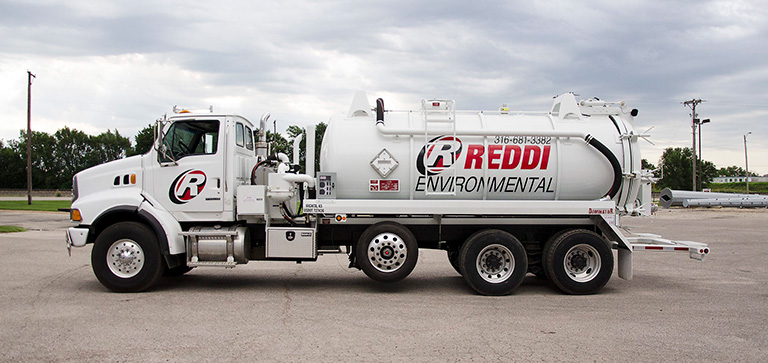 How Do You Know When Your Septic Tank is Full?
If you don't have a septic tank monitoring/alarm system, there are a few signs that your tank may be full. Keep an eye out for these symptoms:
Slow drains and/or gurgling water
Problems flushing
Odors from drains or odors in yard
Any sewage backup in drains
Water pooling in yard (tank could be overflowing)
Overly green grass (tank could be overflowing)
Maintaining your septic tank is very important. Neglect may lead to costly backups, property damage, and more expensive rush service. Clean and inspect your tank out regularly, and consider using sludge reduction products as directed. If your tank needs service, give us a call 24/7:
Septic Tank Installation
We install septic tanks for homes and businesses. Our installations are custom designed for your property. We provided complete service from excavation and fabrication, to making plumbing connections and lateral line installation.