Wichita Sewer Line Service
We offer sewer line installation and repair service in the Wichita area. Your main sewer line is an integral part of your home's plumbing system. If you have frequent drain clogs, sewage backups, gurgling noises from toilets and sinks, bad odors, or slow drains, you could have a problem with your main sewer line. Give us a call to schedule a repair. Our services include:
Video Camera Inspection
Leak Detection
Rooter Service
Sewer Line Cleaning
Pipe and Main Line Repair
Trenchless Sewer Replacement
Clean-out Installation
Hydro Jetting
Utility Excavation
And More
Most sewer issues are caused by aging pipes that have cracked or collapsed. Tree roots, corrosion, debris buildup, and foreign objects in pipes can also cause blockages or leaks.
Trenchless Sewer Replacement in Wichita
A non-invasive and cost-effective way to replace a main line. We have state-of-the-art equipment that makes quick work of any main line replacement.
Using this method, our plumbers do not need to dig up your entire yard. We'll typically only need to dig 1-2 two small holes (depending on the location of your current sewer connections). These access points are all that is required to replace the main line.
These lines typically last decades, but if you have an older home, or if you have significant foundation issues, a replacement may be needed. While trenchless replacements are not possible in all situations, it has become the norm.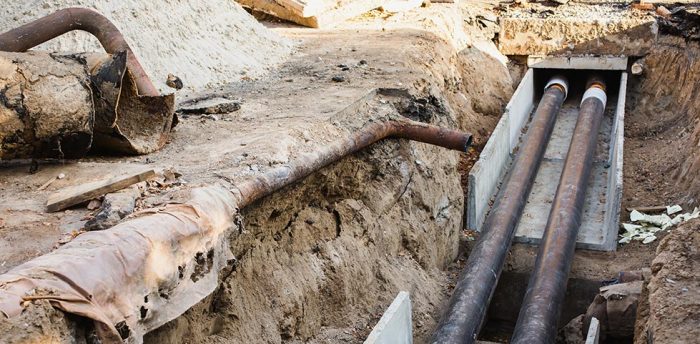 Sewer Repairs
We use the latest technology to inspect and repair sewer lines in the Wichita area. By utilizing advance detection equipment, video cameras, and trenchless technology, repairs are less expensive and less invasive than traditional methods. If your plumbing is having any of these issue, you may need a repair:
Bad odors from plumbing fixtures or yard.
Slow drains and/or frequent clogs.
Toilets cause sewage backups.
Puddles or soggy spots in yard.
Gurgling noises when flushing toilets, or draining water.
Unexpected increase in water bills.
Whether you have a problem with your main line, or an indoor plumbing issue, our plumbers can help. We provide comprehensive water, sewer, and rooter services.