Reddi Root'r Plumbing provides fast, professional plumbing service for homes and businesses. Licensed and insured, we've been Wichita owned for more than 50 years. If you think you need to have a pipe or main line replaced or repaired, our trenchless system might be just what you're looking for.
Water and Sewer Line Replacement & Repair
Advantages of Trenchless Pipe Repair:
Access pipes located under concrete and structures
Faster than digging
Less intrusive and less mess than traditional methods
Preserves driveways, lawns and landscaping
Long lasting repairs
If you have a broken pipe, sewer line or water line, trenchless pipe repair may be the perfect solution for you. Reddi Root'r Plumbing can repair your pipes without digging up your entire lawn. Whether you have a problem with the outside sewer line, or an indoor pipe, our plumbers will be able to repair it with minimal invasion.
Call us for a quote today!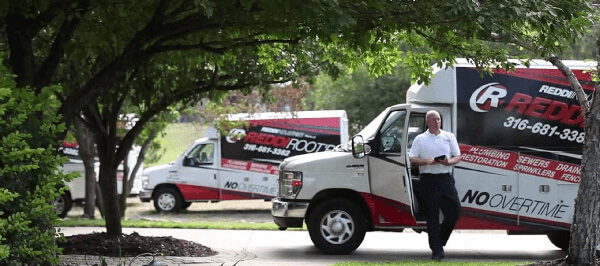 Repair Pipes Without Destroying Your Lawn
Signs of a broken pipe include:
Water backing up into home.
Puddles of water.
Damp floorboards or carpet.
Leaking water.
Poor water pressure.
No water from your faucets.
Water leaking from lawn.

24/7 Emergency Service
At Reddi Industries, we do plumbing right the first time, with one rate and no hidden costs.
Highly skilled plumbers bring extensive experience and to every job. Reddi is committed to 100% customer satisfaction, 100% of the time. Call us for fast service.